Online Registration Instructions

SMJFL registrations are open and we are on the hunt for new players – Under 8's through to Under 18's.
Follow these instructions to register players from U8 to U18, boys and girls.
SBMT Registration 2021 – Register by 5th March and save $70!
Early Bird (Register before or on 5th March): Single $260, Family $100 per subsequent child capped at $460.
Regular (on or after 6th March): Single $330, Family $120 per subsequent child capped at $570.
All players receive a training singlet or T-shirt, Beanie or Singlet.
Players continuing on in Auskick as well as playing juniors will receive complimentary shorts (x1) and socks (x1) free on presentation of your Auskick receipt.
All registrations are online in the SportsTG Footyweb System, and online payment is compulsory, via internet banking or credit card payment.
Building Levy
In order to meet part of the cost of our contribution to Kingston Council towards our new facilities, the Board has resolved to apply a compulsory building levy of $50.00 per family. This amount is included on the registration form as a separate product and must be selected and paid along with registration.
Get Active Kids Voucher Program
The Get Active Kids Voucher Program is a Victorian first and will support children to get involved in organised activities by providing $200 vouchers to help families with the cost of sports equipment, uniforms or memberships. The Get Active Kids Voucher Program is scheduled to commence in early 2021. Please make sure to retain a receipt of any registration expenses to claim against this when available.
NEW!!  Tigers Football Academy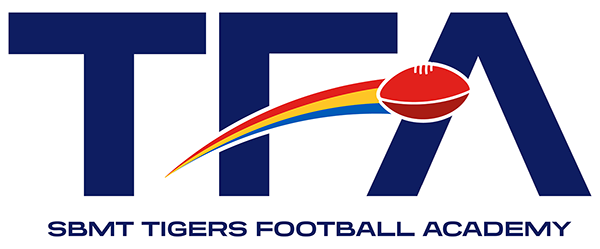 The aim of the Academy is to progressively develop our players (both personally and technically) in a safe, nurturing and inclusive learning environment. The Academy provides extra curriculum learning opportunities for our boys and girls that are designed to enhance engagement, skill acquisition, confidence, well-being and leadership. In season 2021, the Tiger Academy will focus on a range of tailored activities comprising school holiday football clinics, leadership and well-being sessions, tailored video and stats solutions to help visual learners and enhance alignment to coaching curriculum.