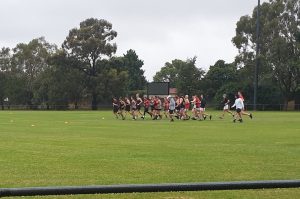 It was a great first night on the track for the senior men's teams earlier tonight at Southern Rd. In what could only be described as very average conditions, the boys were up and about. Unlike many other clubs the rain and conditions did not deter the guys from putting in a full session. There was a solid session of fitness and ball work as the boys got back into the swing of things. There was no shortage of encouragement and effort in the trying conditions.
Anyone who was there would have seen a new look group with plenty of Under 19s from 2019 along with some other fresh faces. With the exit of some senior players, some new lateral recruits, Conan, many second to third year senior players, and the usual incredibly loyal core group of players who have been at the club for a few years (who know who they are), there was a lot of really good and refreshing stuff to see.
There were a couple of key observations from the first night.
Firstly, a number of players looked like they have spent a solid summer in the gym on the beach weights, as one of the attached photos will attest to. $50 in a pizza voucher for who is first to guess whose bicep is pictured in the photo of the arm.
Secondly, a couple of players observed that starting back at a football club post Xmas is right up there with one of those very enjoyable things that you can experience in your 20s and 30s. The Phantom would agree. Bodies are fresh, the weather is warm (except tonight !), there are no weekends games to worry about, you get to hang around with your friends a couple of extra times a week, you are getting fit, you are building new relationships and working to make your current ones better, you are trying to get the most out of each other, and you are playing the game which you have probably played since you were a kid and you are feeling that sense of desire to really want to have a successful and enjoyable year. On top of this, the club is opening a new facility very shortly and you are lining up in a competition this year where you are largely able to determine your own destiny on the ladder assuming you put the work in. That is a very lucky to place to be – there are a lot of Premier A clubs who are finding that for the past few seasons they are simply playing to see who finishes fourth, fifth, sixth, seventh etc given the perceived gap between the top two or three and the rest of the competition both on and off field.
Would be great to see everyone down again on Wednesday at Brindisi St, particularly those who didn't attend tonight.